Our History
The history of the site where the Clocktower Hotel now stands on the corner of Prince & Pound Street, Grafton dates back to 1860 when the first hotel was built and named the Commercial Hotel until 1895.
The hotel changed owners & name in 1895 to the Freemasons Hotel until 1977 when once again new owners changed the name to the Parkview Hotel. Fire destroyed the Parkview Hotel in June 2002 and it was demolished and the liquor license transferred to Sydney.
The site stayed vacant until the Dougherty Family bought the land in February 2007 and transferred the liquor license from the Royal Tavern site at 97 Pound Street, Grafton after closing its doors in September 2006. The Dougherty family owned the Royal Tavern since 1947 with 4 generations of family members working behind the bar over 59 years.
The Clocktower Hotel was opened on 4th July 2008 after 12 months of construction work by 60 local tradesmen, in which six of them were father & son working side by side on the building site. Paul Dougherty (Dougherty Construction) was the head contractor & his two sons assisted in building the hotel. Bill Dougherty now Licensee & his son also worked on the construction site.
The Clocktower Hotel was designed to fit in with other historic buildings on Prince Street, most notable The Saraton Theatre as well as Weiley's Hotel.
For the Dougherty family, the significance of the site as well as its position close to the historic Clock Tower meant there could be only one name for the new hotel, The Clocktower Hotel "If you find the Clock Tower you will find us".
Clocktower Centenary
The Clock Tower was 100 years old on 20th July 2009 & has a long history in Grafton & to celebrate its 100 birthday we had the local U3A Men's shed build a one eighth replica of the Clock Tower which now stands proudly in our hotel.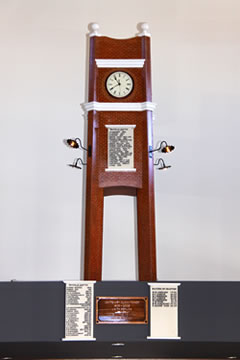 Award Winning Facilities & Staff
As well as being Grafton's newest hotel, The Clocktower Hotel was awarded two of the prestigious Australia Hoteliers Association NSW Awards for Excellence in November 2009. After running as a finalist in three categories the Clocktower Hotel claimed the awards for
Best New/Redeveloped Hotel-Country
Best Pub Tab Silver-City/Country
We were also awarded
Finalist in Best Gaming Venue-Country
Finalists in Best Sports Bar and Best Pub Tab Silver, 2010
Finalist in the National AHA awards for Excellence 2010 in category of Best Redeveloped Hotel, General Division